World Wide
Service & Support
USA: 800 501 4674
+1 508 393 9955



Automated Lead Evaluation & Assignment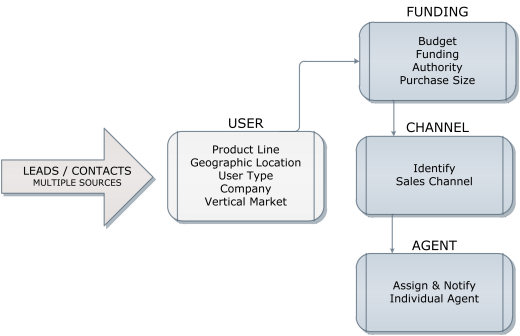 Lead Evaluation:

Our lead evaluation system automatically assigns a level to the lead based on its importance to your organization. Typically this level is associated with the level of contact from your organization and how quickly your organization contacts the lead. For example, if you had a three level system the responds may be as follows:

Hot - Salesperson - Leads that have a high ranking (hot) get assigned to the appropriate sales person / organization for follow-up via telephone or on-site visit. Typically the sales representative is required to respond to lead within a specific time period or lead is automatically re-assigned.
Warm - Telemarketing Center - Leads that have a medium ranking (warm) typically get assigned to a telemarketing organization so the lead can be further qualified or see if the user has additional product interests or the decision maker can be contacted. The telemarketing center may take order or change rank or have the system re-assign the lead.
Cold - Literature Fulfillment Center - Leads that have a low ranking (cold) typically get assigned to the literature fulfillment center whereby literature relevant to the product / service are mailed to the user. Lead sent to literature fulfillment center and product literature mailed to client.

The evaluation system is customizable and is configured and optimized according to your lead allocation model. Ranking is normally based on multiple factors such as Customer history, budget, authority and purchase time frame.

Lead Assignment:

The Lead is assigned to the individual agent in the correct sales channel / organization. The lead is assigned based on multiple factors such as ranking level (hot, warm. cold from lead evaluation), product line, geographic location and organization type.